Donation to Skate-4-Education Helps Kids in Los Angeles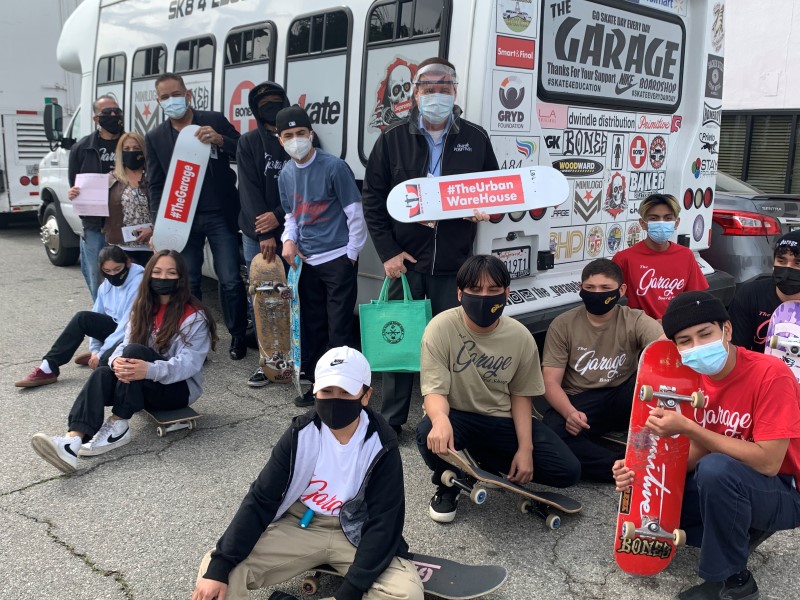 Two Los Angeles Community Hospitals' leaders tried out their skateboard skills with the Urban Warehouse and Garage Board Shop kids when the hospital donated $1,500 to the non-profit organization. The Garage Board Shop serves the inner-city youth of Los Angeles, providing them with encouragement and motivation to enhance their education.
"We are thankful for the great donation to our program," said Jerry Carerra, Garage Board Shop program. "Many of our participants come from low-income families or from the foster care system with minimum guidance. By keeping them off the streets and engaged it helps them redirect their energy."
Many inner-city kids lack the home support needed to help them succeed in school. By participating in the Skate-4-Education after-school program the kids receive mentoring and academic incentive points for completing their homework. After 100 points they can trade their points for skateboards, T-shirts, and a chance to skate at various city skate parks. Skateboards help kids learn the value of education and a path toward success in addition to encouraging an active lifestyle.
"Los Angeles Community Hospital is thrilled to join the long list of organizations affiliated with the Garage Board," said Keith Levy, hospital administrator. "The programs they offer, plus the sports and socializing remind me of the opportunities I had growing up that made me a better person."
The youth also participate in various community outreach activities and learn the importance of recycling from its environmental cleanups where they turn a profit from the recycled material and invest it into candy boxes that are used to raise money towards trips, competitive events, skate park maintenance, and skater scholarships. According to Carrera, "the programs are designed to be a catalyst to helping our community members reach their goals and fulfill their potential."
Pictured: LA Community Hospitals CEO Hector Hernandez, LA Community Hospital Administrator Keith Levy with several of the kids.