Prospect Medical Holdings Relies on Founding Principles in Responding to COVID-19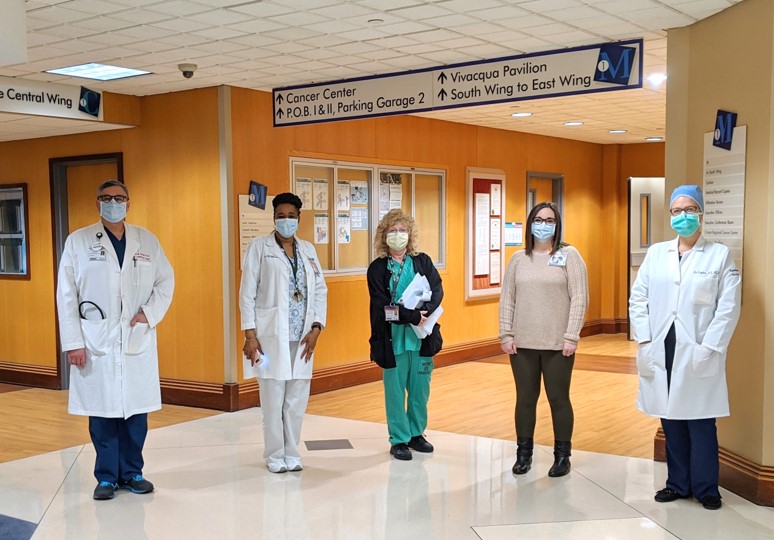 The unprecedented COVID-19 pandemic impacted virtually every healthcare organization in the world. Prospect Medical Holdings, which operates 17 hospitals in five states—Los Angeles and Norwalk Community Hospitals—at the center of the crisis.
The Prospect hospitals primarily care for patients in medically underserved communities, a patient population that was disproportionately hit by the pandemic. During the early phase of the pandemic, almost 40% of Prospect's hospital beds were filled with COVID-19 patients.
A growing national healthcare system, Prospect quickly leaned on its core values amid the crisis and took decisive action to help mitigate the impact on its communities, facilities, staff, and patients. To do that, Prospect relied on the same grit, determination, and vision that guided its actions during its origin.
Prospect was founded in 1998 when hospitals were becoming increasingly ineffective in delivering quality care. This fact, Prospect's founders believed, resulted in hospitals—particularly those in underserved communities—either shutting down or constantly facing the threat of shutting down. At times, this meant patients in need of emergency care and other hospital-required medical services were forced to travel long distances to receive that care. Often, these were people who could least afford to do so.
When COVID-19 hit around the globe early in 2020, Prospect's commitment to providing quality, compassionate care to underserved communities remained intact, but was repeatedly tested on many fronts.
Facing a Pandemic
In the early stage of the pandemic, Prospect's leaders, hospital executives, physicians and other caregivers used lessons learned from providing care in highly urbanized areas to adapt quickly to new emergency protocols and respond effectively to changing safety and treatment guidelines based on local, state, and federal mandates.
Faced with the deadly new coronavirus, Prospect's most important priority was protecting front-line caregivers and patients alike. As Prospect physician leaders and national experts, researchers, and epidemiologists began to better understand how the disease is transmitted and the steps needed to help prevent the transmission, Prospect understood the ongoing importance of having access to the latest clinical data about the virus, sharing best practices across the company, and sourcing difficult-to-find personal protective equipment (PPE).
In response, COVID-19 Incident Command Centers were established at every Prospect hospital to monitor and predict the spread of the disease and the corresponding need for PPE, ventilators, and skilled staff on a daily basis. Getting PPE turned out to be more challenging. Yet Prospect's commitment to the communities it serves, an operating principle established at Prospect's founding, played a significant role in ensuring that staff were safe and therefore available to provide care. This meant it was essential that front-line staff across all hospitals would have essential protective equipment, regardless of the cost.
Wherever PPE was needed, Prospect hospitals with extra inventory stepped in and provided resources to other hospitals in need, including those outside the Prospect system. Prospect's unique, healthcare delivery model, called Coordinated-Regional-Care (C-R-C), made this possible. CRC's collaborative network of healthcare professionals, across all Prospect facilities, ensures clinical and operational alignment, which in turn, produces better operational and patient outcomes. When sourcing PPE systemwide arose as a challenge, the collaborative CRC approach allowed the company to respond quickly and efficiently through the development of an integrated PPE pipeline.
As a result of this effort, none of Prospect's 17 hospitals, including Los Angeles Community Hospitals in Norwalk and East LA ever ran out of PPE. Additionally, Prospect officials created a ventilator inventory-management system so ventilators that were not needed at less-impacted Prospect hospitals could be moved around the country to the latest hot spot.
Caring for the Caregivers
The safety and well-being of its employees has always been a cornerstone of Prospect's approach to healthcare. Prospect leadership immediately and consistently communicated that ensuring the safety all employees was Job #1 as the virus progressed. But Prospect also recognized that caring for our caregivers isn't just about PPE. It's about acknowledging the importance of their physical and emotional well-being.
Prospect's COVID-19 employee plan was focused on one goal: ensuring its caregivers had whatever they needed to remain safe. To address the long hours and concerns about family members becoming infected, Prospect created a lodging program that provides a temporary option for front-line caregivers. This includes providing hotel lodging for caregivers who are working around the clock to identify and treat COVID-19 patients. The program has helped ease many employees' concerns about potentially exposing their families and loved ones at home to the virus, and offered them a safe place to simply isolate, rest and regenerate after working long hours.
Another program that responded to employee needs is a paid time off donation program whereby employees who need time off, but do not have sufficient hours of their own, can request hours donated by fellow employees. Every senior Prospect executive donated personal hours in support of the program, which has successfully helped employees attend to personal matters and simply take some much-needed time off during the ongoing pandemic. Additionally, Prospect also offered its established Tele-Psych program to assist any employee who needs counseling or support.
Prospect's Ongoing Commitment to Quality, Affordable Care
Today, Prospect continues to address the needs of the communities it serves even as COVID-19 continues to present challenges. Prospect is adapting to the new normal that defines the healthcare industry yet remains dedicated to the principles that defined its founding 22 years ago. Prospect's ability to continue delivering quality, compassionate care during the unprecedented pandemic affirms the original vision of its founders. An integral part of this vision is a commitment to the communities it serves. During the last 10 years, in fact, Prospect has provided more than $900 million in charity and uncompensated care through its hospitals and has paid $170 million in local taxes.
As a national healthcare system with 18,000 employees who care for approximately two million people a year and provide care to more than 600,000 members on an ongoing basis, the emergence of COVID-19 has served as a constant reminder that healthcare systems can be both efficient and deliver quality care, even during a pandemic. And, importantly, a reminder of how precious and valued our dedicated employees are to the success of our company.
This is the fulfillment of the hopes Prospect's founders had for the company, and proof that a clear vision, an insightful operating model, and a commitment to communities and our employees, born in the past, remains the way of the future.