Los Angeles Community Hospitals Rebuild the Patient Experience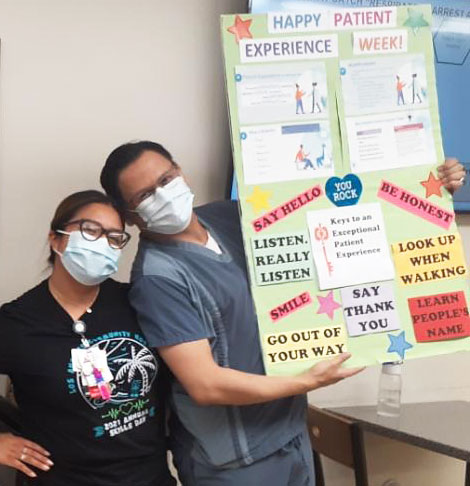 Los Angeles Community Hospital patient experience team during 2023 PX Week.


The Centers for Medicare and Medicaid Services (CMS) have made changes to improve its patient experience survey and revise it to address low response rates and expand data on care quality.
Stakeholders have long advocated for CMS to improve the Hospital Consumer Assessment of Healthcare Providers and System (HCAHPS) survey by changing its response format and fine-tuning the measures included.
HCAHPS scores went up steadily since the survey's inception in 2006. But during the pandemic, beginning in late 2021, scores in certain patient experience domains began declining across the country.
On August 1, 2023, as part of the agency's inpatient prospective payment system final rule, the modifications to the Hospital Consumer Assessment of Healthcare Providers and Systems survey took priority.
"The HCAHPS survey methodology is imperfect, but it is being improved and provides value for the hospital," said Patient Experience Officer Lisa Young, Los Angeles Community Hospital. "The standardization of measures across the country was a leap forward and helps us to compare to each other," she said. "That benchmarking is critical in any kind of improvement work."
With the changes in HCAPS, a whole body of evidence-based best practices has emerged, allowing Los Angeles Community Hospitals (Los Angeles, Norwalk, Bellflower) to be able to identify issues needing improvement. At LACH, Young and CNO Tony Desai are continuously seeking ways to improve patient care and repair any cultural damage caused by the pandemic that may have led to declining survey scores. That effort involves increasing staff training and putting in place measures that improve employee morale, which was hit by the pandemic. It also includes a renewed focus on health equity and discovering new ways to capture the patient's voice and involve patients and families more deeply in decision-making processes.
"We now have evidence-based tactics and tools that have been proven to work," said Young. "It has gotten more strategic, more data-driven."
Looking ahead, LACH is also implementing strategies to target various areas of performance on the survey, from hiring dedicated patient experience staff to training clinicians on how to better communicate with patients and other staff members. Some systems have begun experimenting with QR codes patients can scan to immediately alert staff to any grievances or issues with their hospital experience, like overflowing trash cans or a room that is too hot.
Beginning in 2025, respondents will also be able to take the surveys online, where previously they were only administered by mail or phone. CMS plans to extend the data collection period from 42 to 49 days and require an official survey translation for Spanish-speaking patients.